Undergraduate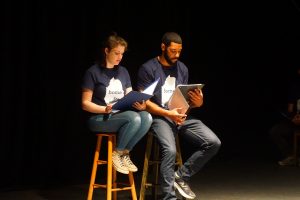 The Department of Communication and Journalism offers three Bachelor of Arts degrees for students who wish to pursue communication-driven career paths. Coursework and learning opportunities like internships and practicums will help you develop essential skills in writing, speaking, and researching.
Students must satisfy the degree requirements for one of these majors as well as the general education requirements for the University in order to complete their degree.
Curious about joining the Department? Check out this video made by the Department's honor society, Lambda Pi Eta.
---
The Bachelor of Arts in Communication is recommended for students who want to develop a broad understanding of how humans communicate, how technologies extend and alter our communication abilities and practices, and how our basic ability to communicate allows us to weave a powerful web between and within individuals, cultures and organizations. Students have the opportunity to pursue communication as it relates to a variety of career fields.
The Bachelor of Arts in Media Studies firmly grounded in the liberal arts, is designed for students who want to gain a broad understanding of the roles of media in society and prepare for careers in the media. For students who wish to continue on, the graduate M.A. program complements the B.A. and prepares students for professional management or leadership positions in mass communication or for further graduate work in the discipline and related disciplines.
The Bachelor of Arts in Journalism is designed for students seeking contemporary news careers. These could be in multimedia, TV/Radio, digital/online, or print. The journalism program offers students a strong foundation in skills relevant to today's digitally-mediated newsrooms and audiences, along with an informed appreciation of public affairs, and a firm grasp of media history that informs the present. These objectives draw upon the inclusive knowledge architecture of the liberal arts. The program encourages and supports student learning through mandatory internships with established media outlets and a variety of other interactions with professional media institutions. For those interested in pursuing higher education, the major also prepares students for graduate study in related communication fields, law, the humanities, and the social sciences.
---
Lambda Pi Eta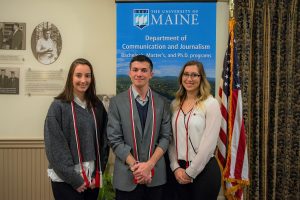 Greetings from the UMaine chapter of 
Lambda Pi Eta
(LPH), a national honor society  dedicated to recognizing the academic achievements of students majoring in Communication, Media Studies, and Journalism. Our local chapter focuses on organizing professional development and social events for CMJ majors and on celebrating CMJ excellence. If you'd like to learn more about the honor society, upcoming events, as well as why and how you should get involved, please join us at the
2020 Lambda Pi Eta meeting(s): Wednesdays ~ Oct. 21, Nov. 4, Nov. 18, and Dec. 2 ~ 5.30 – 6.30 pm
. All meetings are virtual via Zoom.
Zoom Link: https://maine.zoom.us/j/97223916488?pwd=T3c2MVhPSm5HWVppcUppTVprbDJkZz09
Password: LPH2020
Phone: US: +1 312 626 6799  or +1 646 876 9923
Meeting ID: 972 2391 6488
More details about Lambda Pi Eta: Student majors in Communication and Journalism are eligible for membership in the Mu Epsilon chapter of the Lambda Pi Eta Honor Society. Requirements for student membership include completion of at least 60 semesters hours, at least 12 semester hours of department coursework, a cumulative grade point average of 3.0, a grade point average in the major of at least 3.25, being in the upper 35% of the graduating class, being in good standing in the University, and displaying commitment to the field of communication and journalism.
Departmental Awards
Each year, the department awards several undergraduate awards recognizing outstanding students in Communication, Journalism and Media Studies. Click here to see a description of the awards and lists of past student winners.
---
To set up a time to meet with an academic advisor just click here to schedule an appointment.
---
Student Learning Outcomes
Through completion of B.A. degrees in Communication, Media Studies, or journalism, students will be able to:
Demonstrate an ability to apply media theories and methods in order to study social media. Specifically, students should exhibit:

Ability to frame a research project in media studies.
Ability to select appropriate theory and method for the project idea.
Ability to write an effective research proposal.

Demonstrate an ability to apply communication theory and understanding of communication scholarship to assess and respond to an existing communication challenge. Specifically, students should exhibit:

Ability to frame an applied project in communication studies.
Ability to access, evaluate, and synthesize research literature in communication studies.
Ability to write an effective applied project proposal.

Demonstrate an ability to apply media ethics principles to a current media ethics case study. Specifically, students should exhibit:

Ability to select an appropriate case study for ethical consideration.
Ability to delineate appropriate ethical principles relative to the case study.
Ability to reflect on the ethical significance of the issues illuminated by the principles applied to the case study.