Undergraduate Program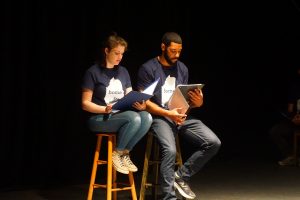 The Department of Communication and Journalism offers three Bachelor of Arts degrees for students who wish to pursue communication-driven career paths. Coursework and learning opportunities like internships and practicums will help you develop essential skills in writing, speaking, and researching.
Students must satisfy the degree requirements for one of these majors as well as the general education requirements for the University in order to complete their degree.
---
Undergraduate Majors
The Bachelor of Arts in Communication is recommended for students who want to develop a broad understanding of how humans communicate, how technologies extend and alter our communication abilities and practices, and how our basic ability to communicate allows us to weave a powerful web between and within individuals, cultures and organizations. Students have the opportunity to pursue communication as it relates to a variety of career fields.
Learning outcomes for this program include:
Students are able, individually or in teams, to produce novice research projects about communication in at least one tradition of Communication research.
Students are able to use one or more theories of communication (from social science, rhetoric, or critical/cultural) to explain and/or interpret human behavior.
The Bachelor of Arts in Media Studies is designed for students who want to understand the role that media play in society, culture, and daily life. Students who major in media studies will apply a wide array of theories and research techniques to examine the impact of all forms of media platforms and content, including: broadcasting, digital, and social media platforms as well as advertising, film, and television. Students will learn to critically examine the role that the media play in some of the problems that plague today's world, such as health, political issues, misinformation, and climate change. The major offers a healthy mix of theory-driven and applied courses, such as PR and advertising. Media studies majors have ample opportunities to gain professional experience by conducting research and participating in internships. Recent media studies graduates are employed with media industries, non-profit organizations, government agencies, and have pursued graduate degrees. 
Learning outcomes for this program include:
Students are able to accurately describe, differentiate, connect, and utilize multiple existing media-centered theories to critically analyze contemporary media issues.
Students are able to describe an innovative research question that addresses a gap in the existing literature and/or a real-world problem; they can then propose a solution in the form of appropriate theories and methodologies.
Students are able to find, synthesize, and properly cite a variety of relevant, peer-reviewed sources to make an original argument.
The Bachelor of Arts in Journalism is designed for students seeking contemporary news careers. These could be in multimedia, TV/Radio, digital/online, or print. The journalism program offers students a strong foundation in skills relevant to today's digitally-mediated newsrooms and audiences, along with an informed appreciation of public affairs, and a firm grasp of media history that informs the present. These objectives draw upon the inclusive knowledge architecture of the liberal arts. The program encourages and supports student learning through mandatory internships with established media outlets and a variety of other interactions with professional media institutions. For those interested in pursuing higher education, the major also prepares students for graduate study in related communication fields, law, the humanities, and the social sciences.
Learning outcomes for this program include:
Students are able to demonstrate their journalistic skills by producing high-quality, professional, and ethical journalistic products.
Students are able to demonstrate complex, detailed, and critical thinking about journalism as both a cultural practice and professional endeavor.
Students understand, and can describe, the principles of professionalism, their personal career development goals, and the experience of producing journalism, public relations, marketing, or professional communication, through reflection upon internship experiences.
Undergraduate Minors
The minor degree in Journalism provides students with an understanding of the practice and profession of journalism. The minor introduces students to the history of journalism, the basics of media writing, and the contemporary landscape of journalistic forms. Students also sample from various practice courses to advance their skills as journalists.
The minor degree in Media Studies provides students with an understanding of different roles that media play in society. The minor introduces students to humanistic and social science traditions of media research, teaches students about the influence that media forms and institutions have, and provides instruction in the critical evaluation of different kinds of media communication.
---
Faculty and Students Overview Our Undergraduate Program
This video was produced by the Department's honor society, Lambda Pi Eta.