Undergraduate Program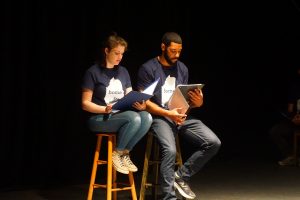 The Department of Communication and Journalism offers three Bachelor of Arts degrees for students who wish to pursue communication-driven career paths. Coursework and learning opportunities like internships and practicums will help you develop essential skills in writing, speaking, and researching.
Students must satisfy the degree requirements for one of these majors as well as the general education requirements for the University in order to complete their degree.
---
Undergraduate Majors
The Bachelor of Arts in Communication is recommended for students who want to develop a broad understanding of how humans communicate, how technologies extend and alter our communication abilities and practices, and how our basic ability to communicate allows us to weave a powerful web between and within individuals, cultures and organizations. Students have the opportunity to pursue communication as it relates to a variety of career fields.
The Bachelor of Arts in Media Studies firmly grounded in the liberal arts, is designed for students who want to gain a broad understanding of the roles of media in society and prepare for careers in the media. For students who wish to continue on, the graduate M.A. program complements the B.A. and prepares students for professional management or leadership positions in mass communication or for further graduate work in the discipline and related disciplines.
The Bachelor of Arts in Journalism is designed for students seeking contemporary news careers. These could be in multimedia, TV/Radio, digital/online, or print. The journalism program offers students a strong foundation in skills relevant to today's digitally-mediated newsrooms and audiences, along with an informed appreciation of public affairs, and a firm grasp of media history that informs the present. These objectives draw upon the inclusive knowledge architecture of the liberal arts. The program encourages and supports student learning through mandatory internships with established media outlets and a variety of other interactions with professional media institutions. For those interested in pursuing higher education, the major also prepares students for graduate study in related communication fields, law, the humanities, and the social sciences.
---
Faculty and Students Overview Our Undergraduate Program
This video was produced by the Department's honor society, Lambda Pi Eta.