Lambda Pi Eta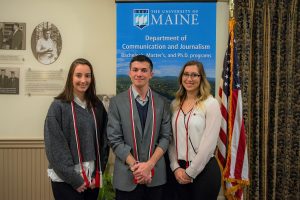 Greetings from the UMaine chapter of Lambda Pi Eta (LPH), a national honor society dedicated to recognizing the academic achievements of students majoring in Communication, Media Studies, and Journalism. Our local chapter focuses on organizing professional development and social events for CMJ majors and on celebrating CMJ excellence.
Student majors in Communication and Journalism are eligible for membership in the Mu Epsilon chapter of the Lambda Pi Eta Honor Society. Requirements for student membership include completion of at least 60 semesters hours, at least 12 semester hours of department coursework, a cumulative grade point average of 3.0, a grade point average in the major of at least 3.25, being in the upper 35% of the graduating class, being in good standing in the University, and displaying active commitment to the field of communication and journalism.
If you'd like to learn more about the honor society, upcoming events, as well as why and how you should get involved, please contact Dr. Lily Herakova, the Lambda Pi Eta faculty advisor at liliana.herakova@maine.edu.