Graduate Program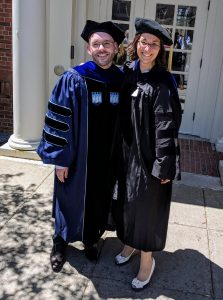 We are proud to offer an MA and PhD in Communication. Our graduate program was identified as one of the top MA programs in the Eastern United States and "among the most rigorous academic master's programs in the country." Each year about 20-25 graduate students actively pursue graduate degrees. With 8 graduate faculty, we work closely with students in courses and on various academic projects and research interests.
Master of Arts Degree
The MA program combines teaching and research in a curriculum that prepares students for scholarly inquiry or work outside the academy. We emphasize a broad understanding of historical and contemporary theories; the research skills necessary to explore and contribute to knowledge; and the ability to apply knowledge beyond the classroom in public and private organizations. The Master of Arts in Communication provides students with a broad foundation for doctoral study and for employment as communication specialists and professionals. More information can be found here.
PhD Degree
The Department of Communication and Journalism offers a PhD in Communication. The program enrolls approximately 10 doctoral students at a time and is designed for students looking to integrate the theory and research of Communication with a secondary concentration in another discipline such as Psychology, Sustainability Science, English, History, and more. Our successful PhD students are prepared to: become a faculty member or join an appropriate profession; conduct research while utilizing theories and methods blended from different disciplines; make linkages between disciplines and professions. More information can be found here. 
---
Learning Outcomes for the CMJ Graduate Program
Describe and reflect on ideas, practices, literatures, and issues in the study of communication as well as those relevant to their particular area of interest.
Critically evaluate perspectives, theories, and concepts relevant to communication research and practice as well as their own scholarly position in the field.
Prepare and lead presentations based on their own materials which are grounded in effective learning principles.
Create research questions and designs, research projects, and publishable writing.
Design, prepare, and carry out research using the highest ethical standards. Research will reflect a commitment to the advancement of the human condition, justice, and/or environmental sustainability.
Click here to find more information about the expected level of proficiency for MA and PhD students, as well as how these learning outcomes support those of the University of Maine Graduate School.
---
Faculty and Alumni Overview Our Graduate Program