Uncovering inequities: a graduate student's quest to address access issues in Maine's wild clam and mussel fisheries.
Wild intertidal shellfishing has been a source of food and livelihood for centuries, in the place now known as Maine. The wild soft-shelled clam fishery is the second most lucrative fishery in the state behind lobster. These fisheries are important for the economy of Maine, personal livelihood, providing food, and as an important part of Wabanaki (North American First Nations) and non-Wabanaki culture.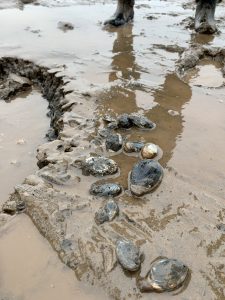 "Mudflat in Lubec, Maine." Photo by Jennifer Smith-Mayo.
"Talk to anyone who is engaged in the wild clam and mussel fisheries in Maine, and you will quickly learn that access is a big, complex, and urgent issue facing the fisheries," said Brennan (B) Lauer, a CMJ graduate student and researcher on the project. B's research is conducted within the context of the Maine Shellfish Learning Network (MSLN). The Network was created by Dr. Bridie McGreavy, Associate Professor at the Department of Communication and Journalism, and UMaine PhD candidate Gabby Hillyer to add capacity and support policy, communication, and conservation activities within the wild clam and mussel fisheries in Maine. The team now consists of the two of them, plus Dr. Tony Sutton, Assistant Professor of Native American food systems, and B. 
"In my first year of research, I embedded myself in many of these conversations and realized that not only are folks using this word (access) to mean different things in different contexts and places but also that the efforts to protect and preserve access are varied and often disconnected across the coast," said B.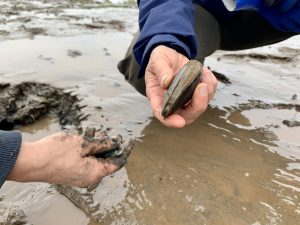 "Mudflat in Lubec, Maine." Photo by Jennifer Smith-Mayo.
Wild clams and mussels live in a section of the coast called the intertidal area. This area is submerged at high tide and exposed at low. The vast majority of the coast of Maine is privately owned and in Maine, coastal ownership extends through the intertidal. However, Maine state law allows public access to the intertidal for the purposes of "fishing, fowling, and navigation." This means that if shellfish harvesters can find their way to the intertidal, they are legally allowed to be there and harvest if they have the appropriate licenses. Physical access to the intertidal as described above is one of the multiple ways in which access can manifest. An accessible fishery is also one in which the structural components such as rules, regulations, licenses, and policies surrounding the fishery are equitably accessible and present no unnecessary barriers to harvesters. Additionally, social norms within coastal communities can pose barriers to access.
"Touring of the conservation efforts of a community in Gouldsboro, Maine." Photo by Gabby Hillyer.
B spent about three years looking for a graduate program that allowed her to do transdisciplinary research. Her undergraduate degree is in Biology and Environmental Studies and included many quantitative, biophysical research opportunities. But after years of biophysical research, she wanted to produce actionable and accessible data that policymakers and communities could use to help mitigate and adapt to the effects of climate change. "In looking for a graduate program, I wanted to work in a department, program, and with advisors who would allow me to combine my love for ecology, systems thinking, and directly supporting communities," she said.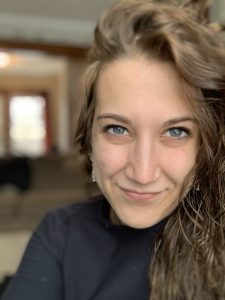 "The first thing about UMaine that caught my eye was the National Science Foundation Research Traineeship in Conservation Science and Practice (NRT)," she added. This program trains conservation-oriented graduate students to be transdisciplinary conservation professionals. With her research, B hopes to make a small contribution to support the wild clam and mussel fisheries which have hosted her learning and research for the past year and a half.
While she does not plan to pursue a research-centric career in academia, the skills she has gained throughout her graduate career will continue to serve her far into the future. "I hope to continue authentically and ethically engaging with communities to support adaptive capacity and resilience-building efforts in the face of climate change," she concluded.