Leah Savage, (BA, Media Studies '22), was selected to present her research at the 73rd Conference of the International Communication Association in Toronto, Canada.
It is a great accomplishment for students to have research accepted for presentation at an international conference. This is the case for Leah Savage, a Media Studies major. While studying at UMaine, Leah worked with Dr. Amelia Couture Bue on a CUGR-sponsored research project that will be presented at the 73rd Annual International Communication Association (ICA) Conference in Toronto, Canada.
The research topic examines the impact of camera settings on Zoom on body image and cognitive performance in virtual classrooms. In a world where virtual communication has become an integral part of our daily lives, this kind of research is particularly timely and relevant.
"Looking back, it seems like many of the objectives of this project stemmed from my experiences as a college student during the COVID-19 pandemic," Leah explains. "I was noticing a severe lack of engagement and interest from my peers and classmates; there was no pre-class chatter, no micro conversations across desk aisles, and barely any questions or comments for professors. It seemed like we were all too scared to engage with each other in this new sphere of education, that being, on Zoom." The material from her Media Studies classes, and specifically, coursework on how visual media affect body image and mental health, guided the project. "It seemed to me that if the parameters of Zoom education were having a detrimental effect on students' self-concept and their ability to focus and perform in these new educational environments, this should be known so that interventions may be put in place," she added.
Screenshot of the Experiment in Action
One of the additional motivations for this project, Leah said, was her desire to learn more about social science research. "I knew that the skills that were needed for this kind of project would serve me well both in other educational environments and in the professional world. Critical thinking, organization, creative problem-solving, writing, and detailed analysis work are all skills that can be applied to nearly any position or project. I saw the opportunity that UMaine's CUGR program offered and seized it, and in doing so I received boundless support from my peers, professors and administration. Looking back, this is what I am most grateful for in my experience at UMaine, particularly my experience in the CMJ department. If you decide that you want to do something, no matter how bold, and if you're ready to put in the work, you will be supported in that," she concluded.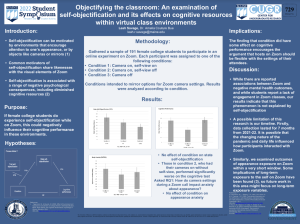 Poster presented at the 2022 UMaine Student Symposium
The ability to conduct research and present findings at a conference is a testament to Leah's dedication, hard work, and passion for her field of study. It also showcases her ability to think critically and conduct independent research, which are essential skills for success in any field.
Furthermore, the research is an important contribution to the field of Communication. The findings of this study are currently being revised for resubmission at a top-tier interdisciplinary journal. The project has the potential to inform and improve the way virtual classrooms are conducted, making the experience more inclusive and beneficial for all students. It highlights the importance of understanding the impact of technology on our communication and how small changes in settings can have a big impact on our overall experience.