Michael J. Socolow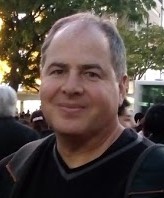 Professor
434 Dunn Hall
Phone: (207) 581-1942
Email: michael.socolow@maine.edu
---
Michael J. Socolow is a media historian whose research centers upon America's original radio networks in the 1920s and 1930s.  His scholarship on media history has appeared in Journalism & Mass Communication Quarterly, The Journal of Broadcasting and Electronic Media, Technology & Culture, and other scholarly journals.  He is the author of Six Minutes in Berlin: Broadcast Spectacle and Rowing Gold at the Nazi Olympics (Urbana: University of Illinois Press, 2016).  He was awarded the 2018 Broadcast Historian Award by the Library of American Broadcasting Foundation and the Broadcast Education Association for Six Minutes in Berlin.  In 2019, Professor Socolow was a Senior Fulbright Research Scholar at the News & Media Research Centre at the University of Canberra [Australia]
He is also a former broadcast journalist who has worked as an Assignment Editor for the Cable News Network and as an information manager for the host broadcast organizations at the Barcelona, Atlanta, and Sydney Olympic Games.  He has written pieces on media regulation and media history for The New York Times, Washington Post, Slate, Politico, Columbia Journalism Review, the Chronicle of Higher Education's Chronicle Review, and other journalistic outlets.  In the Department of Communication and Journalism, he teaches CMJ 211: Journalism Studies I, CMJ 237: Journalism Across Platforms, CMJ 380: Advertising, Media & Society, CMJ 489: Seminar in Media Ethics, CMJ 520: Media History, CMJ 525: Propaganda and Political Persuasion, and other courses.
From 2020 to 2022, Dr. Socolow was Director of the McGillicuddy Humanities Center at the University of Maine.
For more on Professor Socolow's scholarship check out his Google Scholar profile. His Open Researcher and Contributor ID (ORCID) page can be found here. He tweets at @michaelsocolow.
Recent Scholarship:
"Radio News in American Journalism History," in Garza, M.M., Fuhlhage, M., & Lucht, T. (Eds.). (2023). The Routledge Companion to American Journalism History (1st ed.). (Routledge, 2023):.
"Commercial Television's Secret Goldmine: The Hidden Riches Generated by U.S. Network TV News, 1960–1970," Journalism History 49 (2) (2023), 91-94. DOI: 10.1080/00947679.2023.2195346.
"'Australians are the Greatest Sport Loving People in the World': Sport Broadcasting's Role in the Development of National Radio in Australia, 1925–1935," Media History 28 (4): 510-528. DOI: 10.1080/13688804.2021.1929132  
"Comparing Australian, British, Canadian, and U.S. Broadcasting: The 1934 Radio Reports Compiled by Australian Broadcasting Commissioner E.M.R. Couchman," Journal of Radio & Audio Media, 28 (1) (2021), 86-106. DOI: 10.1080/19376529.2020.1844204
""Radio's Waves of History: Media Activism and National Radio Network Historiography in the United States," Journal of Radio and Audio Media 27 (2) (2020): 208-233.
"The Prohías Paradox: The Cold War Specificity and Existential Universality of 'Spy vs. Spy'" in John Bird and Judith Yaross Lee eds. Seeing Mad: Essays on Mad Magazine's Humor and Legacy (Columbia, MO: University of Missouri Press, 2020): 177-192.
Recent Reviews and Media Commentary:
"Taken Hostage," Journal of American History 110 (1):189–191 [Film Review].
"Of Course Trump Should Be Interviewed on TV!" Slate, May 11, 2023.
"Saving Broadcasting's Past for the Future" The Conversation, April 27, 2023.
"Don't Trust the News Media? That's Good," The Conversation, March 14, 2023.
"The Brilliant, Prying Interrogations of Barbara Walters," Slate, December 31, 2022.
"The Button That Could Have Changed the Internet," Slate, December 3, 2022.
"Citizen Hearst: An American Experience Special," Journal of American History 109 (1): 216–218 https://doi.org/10.1093/jahist/jaac227. [Film Review].
"Walter Winchell: The Power of Gossip," Journal of American History 108 (1): 224–226. doi:10.1093/jahist/jaab058. [Film Review].