Sindhu Manjesh, Ph.D.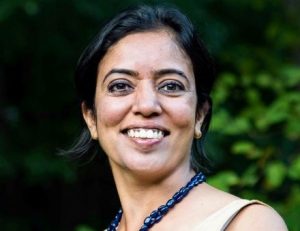 Lecturer in Journalism
416 Dunn Hall
E-mail: sindhu.manjesh@maine.edu
Dr. Manjesh earned her Ph.D. in 2018 from American University, where her dissertation ("'Citizen Journalist': A Case Study of Audience Participation in Mainstream TV News Production in India") explored interactivity and engagement in the news production process. She earned an MA in Social Anthropology from the School of Oriental and African Studies, University of London (2005) where was a Chevening Scholar, and was a Fulbright Fellow at the University of Maryland in 2011-2012.  Dr. Manjesh was an editorial writer and Op Ed editor at The Times of India, and she's been a contributing writer for Huffington Post India.  She also has radio and television experience, having broadcast for the British Broadcasting Corporation and news TV stations in Mumbai and New Delhi.  While completing her doctorate, Dr. Manjesh taught "Digital Media and Culture" at American University. Her research interests include the sociology of news, comparative journalism, and political communication.