Profile
Macey Hall '11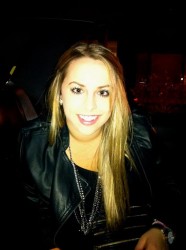 Macey Hall is a 25-year-old graduate of the University of Maine. Originally from Fryeburg, Maine, Macey transferred to the university after spending her freshman year at Quinnipiac University in Connecticut.
Macey says that one of the first things she did when she got to Orono was to join the university's campus newspaper, The Maine Campus. She also decided to join the Communication and Journalism Department to pursue a degree in journalism.
"I started out writing general news, and then moved to the style section," Macey says. "The first piece I did for the style section was interview O.A.R. when they came to perform the fall concert. I've always loved fashion, so during my junior and senior years at UMaine, I wrote a fashion column for the paper."
Macey says she thrived in her CMJ classes.
"I had an amazing experience in the CMJ department at UMaine. Every class I had was awesome and I learned so much—and all the professors were incredible. During my junior year I took classes with Margaret Nagle, Greg McManus, and Michael Socolow that all really stood out to me. They were such great teachers and I learned so much from them."
Macey says that Prof. Socolow had a particularly great impact on her career.
"All my classes with Professor Socolow were my favorite—he was incredibly encouraging and always really believed in my writing, and also me personally.  He became like a mentor during my time at UMaine and was always so helpful and my biggest cheerleader. I interned at the Bangor Daily News and whenever I had a good article published, Professor Socolow would mention it to the whole class and read an excerpt from it, and recommend that the class checks it out—I remember being so embarrassed and turning bright red every time, but also really touched that he thought I was a good writer."
During the fall of Macey's senior year, she enrolled in the CMJ Internship program to complete her journalism degree. She interned with the style section of the Bangor Daily News.
"It was a great learning experience, and taught me the ins and outs of working at a daily paper," Macey says.
Also during her senior year, Macey  and her fellow CMJ Department friend and colleague Shaina Dennis started the UMaine chapter of Her Campus, the number one website geared specifically for college woman.
"Building that from the ground up with Shaina was an incredible experience—we did everything from writing a business proposal, to hiring a staff, to editing and building all the articles," Macey says.
She was also president of UMaine's Communication honor society, Lambda Pi Eta, during her junior and senior years.
In May 2011, Macey graduated from the university and moved to New York City to intern in the features department of Seventeen Magazine.
"I read Seventeen religiously when I was younger, and wanted to pinch myself at the thought of working with some of the editors whose articles I had read when I was 17," she says.  "On the first day of my senior year capstone class with Professor Socolow, we had to go around the room and say what our dream job was, and I said I wanted to work at a women's lifestyle magazine like Glamour or Seventeen, and thought it would maybe possibly happen somewhere very far down the line—not within a year."
After a summer of interning, Seventeen hired Macey, and she stayed on with the magazine first to work on their special prom issues, and then as an editorial assistant.
"Those were both print roles, and while working for the magazine was cool, what really interested me was the website," she says. "After a year of print, I became an assistant web editor, where I oversaw the health, prom, college, and relationships verticals."
From there, Macey went on from Seventeen to serve in her most current role, as the social media manager at the People's Choice Awards. Today Macey runs the social platforms that the People's Choice Awards are on, including Twitter, Facebook, and Instagram. She also assists with the celebrity and entertainment news site, peopleschoice.com.
You can follow Macey on Twitter and Instagram at @maceyhall, or email me at maceyphall@gmail.com to keep up with the latest