Academics
UNDERGRADUATE
[Click Here for Graduate Program]
The Department of Communication and Journalism offers three Bachelor of Arts degrees for students who wish to pursue communication-driven career paths. Coursework and learning opportunities like internships and practicums will help you develop essential skills in writing, speaking, and researching.
Students must satisfy the degree requirements for one of these majors as well as the general education requirements for the University in order to complete their degree.
---
The Bachelor of Arts in Communication
is recommended for students who want to develop a broad understanding of how humans communicate, how technologies extend and alter our communication abilities and practices, and how our basic ability to communicate allows us to weave a powerful web between and within individuals, cultures and organizations. Students have the opportunity to pursue communication as it relates to a variety of career fields.
The Bachelor of Arts in Media Studies firmly grounded in the liberal arts, is designed for students who want to gain a broad understanding of the roles of media in society and prepare for careers in the media. For students who wish to continue on, the graduate M.A. program complements the B.A. and prepares students for professional management or leadership positions in mass communication or for further graduate work in the discipline and related disciplines.
The Bachelor of Arts in Journalism is designed for students seeking print, broadcast and digital broadcast news careers in Maine and nationwide. The journalism program offers students strong oral and written expression skills, a firm grasp of public affairs, and a broad foundation in the liberal arts. The program also encourages media literacy and productive relations with a variety of media institutions. For those interested in pursuing higher education, the major also prepares students for graduate study in related communication fields, law, the humanities and the social sciences.
---
Lambda Pi Eta
Student majors in Communication and Journalism are eligible for membership
In the Mu Epsilon chapter of the Lambda Pi Eta Honor Society. Requirements for student membership include completion of at least 60 semesters hours, at least 12 semester hours of department coursework, a cumulative grade point average of 3.0, a grade point average in the major of at least 3.25, being in the upper 35% of the graduating class, being in good standing in the University, and displaying commitment to the field of communication and journalism.
---
To set up a time to meet with an academic advisor just click here to schedule an appointment.
---
GRADUATE
We are proud to offer a M.A. and Ph.D. in Communication with two major areas of study: Communication and Mass Communication. Our graduate program was identified as one of the top M.A. programs in the Eastern United States and "among the most rigorous academic master's programs in the country." Each year about 24 graduate students actively pursue graduate degrees. With 10 graduate faculty, we work closely with students in courses and on various academic projects and research interests.
Master of Arts Degree
The M.A. program combines teaching and research in a curriculum that prepares students for scholarly inquiry or work outside the academy. For the M.A. in Communication, graduate students can pursue one of two two major areas of interest: Communication or Media Studies. Both areas provide students with a liberal arts curriculum that prepares them for life in the twenty-first century. We emphasize a broad understanding of historical and contemporary theories; the Research skills necessary to explore and contribute to knowledge; and the ability to apply knowledge beyond the classroom in public and private organizations. The Master of Arts in Communication and Media Studies provides students with a broad foundation for doctoral study and for employment as communication specialists and professionals. More information can be found here.
Ph.D. Degree
The Department of Communication and Journalism offers a Ph.D. in Communication. The program enrolls approximately 4-8 doctoral students at a time and is designed for students looking to integrate the theory and research areas of Communication or Mass Communication along with a secondary concentration in another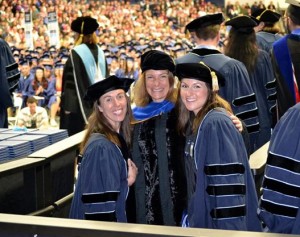 discipline such as Psychology, English, Disability Studies, History, Women's Studies, and more. Our successful Ph.D. students are prepared to: become a faculty member or join an appropriate profession; conduct research while utilizing theories and methods blended from different disciplines; make linkages between disciplines and professions. More information can be found here.